For many years, Winchester 231 ball powder has been one of the most widely used handgun propellants. Standard loads of 9mm, 45 Auto, and 38 Special give you the best results. Due to its uniformity, clean burning, low flash, and adaptability, this powder is a great option for any handgun cartridge loader.
Powder 231 is optimal for use in standard-load pistols chambered for 9mm, 45 Auto, or 38 Special cartridges. When it's time to restock, this is a popular option. This powder is ideal for reloading pistol cartridges due to its consistent burn, low flash production, and adaptability.
Winchester Smokeless Powder has been on the market since the 19th century. The quality of the propellant is immediately apparent to customers who have fired factory-loaded Winchester ammunition. Use the Winchester brand of powder to bring that same level of quality to your reloading table.
This 231 powder is excellent for loading almost any type of handgun.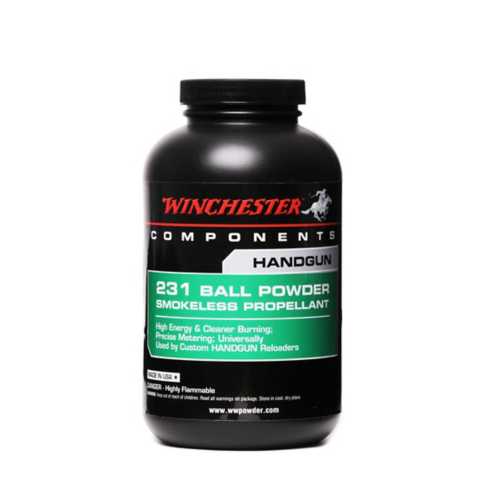 In addition, please note the following:
When reloading, stick to the recommended loads.
Never mix powders of different types, brands, or countries.
Under no circumstances should smokeless powder ever be used as a replacement for black powder.