This ballistic powder was specifically designed for the 5.56 NATO/223 Remington and is therefore ideal for military use.
Among varmint cartridges, the 222 Remington is among the most versatile. Those who enjoy shooting prairie dogs will appreciate this, as has J.B. Hodgdon for many years..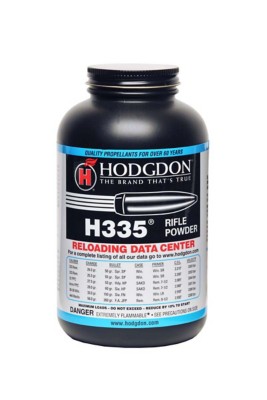 When it comes to reloading, no one offers a wider variety of high-quality smokeless propellants than Hodgdon Powder.
.
Hodgdon H335 was originally developed as a military powder for the 5.56 NATO, or 223 Remington as it is commonly referred to by hand loaders. The 222 Remington, 223 Remington, and other small cartridges are obvious places where it can be used. This compact rifle powder is a hit with prairie dog shooters.
.
Warning;
When using smokeless powder, only use the amounts recommended in the reloading manual.
Never mix different powders together, no matter how similar they may look.
Never substitute smokeless powder for black powder or any other type of black powder.