Announcing the Gen5 series, which currently consists of the 9×19 and.40 S&W calibers. The GLOCK Gen5 pistols represent the company's newest efforts to improve upon previous models. The GLOCK Marksman Barrel, nDLC finish, ambidextrous slide stop lever, removal of finger grooves, and flared mag-well are just a few of the more than 20 design changes made to Gen5 pistols compared to their Gen4 counterparts. Whether you're practicing on the range or in a high-stakes game, you'll notice a marked improvement in accuracy, durability, performance, control, and versatility thanks to these updates.
For the time being, only Gen5 GLOCKS and their production process feature the DLC coating. The handgun will perform better in degreased or harsh situations and will be more resistant to corrosion thanks to the coating.
The larger funnel in the mag-flare well's design allows for quicker reloads, which is crucial in high-pressure circumstances where every second counts.
The Glock Marksman Barrel (GMB) is designed to improve accuracy with its more aggressive polygonal rifling, target-style crown, and tighter chamber specifications.
Slide stops that may be used with either the strong or support hand are made more comfortable by incorporating ambidextrous levers.
The removal of the finger grooves enhanced the ergonomics of the grip and made it more comfortable to use for people with different-sized hands.
Improvements to the firing pin safety and trigger spring make for a longer-lasting trigger housing, which in turn makes for a better trigger pull and improved trigger reset.
When the trigger is pulled, the Safe Action® System's safeguards disengage one at a time and reengage when the trigger is released.
If the magazine doesn't fall out of the handgun during a malfunction or reload, the enlarged floor plate makes it much simpler to remove it.
Two sizes of backstraps, one with and one without a beavertail, allow for a wide range of frame sizes to be accommodated. Users of the various backstrap frames can adjust the grip's circumference to their preferred fit.
High-capacity magazines are available for several pistol models, varying in caliber and size.
G19 Gen 5 Features
The compact nature of the GLOCK 19 Gen5 FS in 9mm Luger makes it well-suited for a variety of roles. Despite the lack of finger grooves in the frame, the multiple back straps still allow for a quick and easy adjustment to fit any hand size. Whether you're left- or right-handed, you'll find the gun's magazine catch and slide stop lever to be perfectly accommodating. To improve accuracy, minor adjustments were made to the barrel's rifling and crown.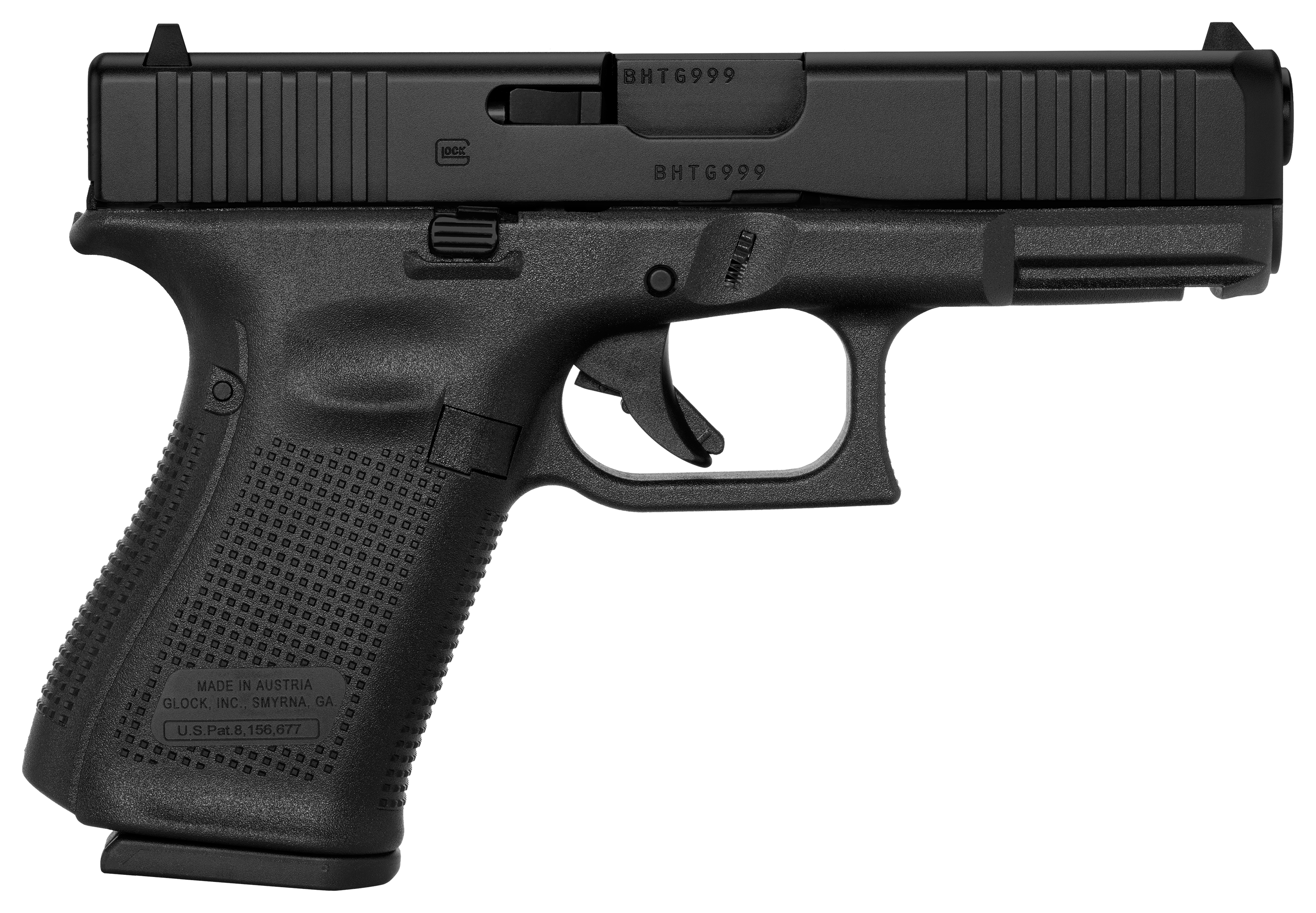 Brand: Glock
Category: Pistols
Caliber: 9mm Luger
Model: G19
Series: Gen5
Frame Finish: Black
Action: DAO
Barrel Length Range: 4″ to 4.99″
Slide Description: Black nDLC Front Serrations
Slide Finish: Black
Capacity: 15 plus 1
Frame Material: Polymer
Grips: Black Interchangeable Backstrap
Hand: Right
OAL: 7.28″
Safety: Trigger / Firing Pin / Drop
Sight Configuration: Fixed
Sight Style: Fixed
Weight: 30.16 oz
Barrel Length: 4.02″
G19 Gen5 FS – The next generation
The compact design of the GLOCK 19 Gen5 in 9mm Luger makes it a great choice for a wide variety of roles. In spite of the absence of finger grooves in the new frame design, the grip can be quickly adjusted to fit hands of varying sizes by simply switching out the straps at the back. Because of its ambidextrous magazine catch and slide stop lever, it may be used comfortably by shooters of either hand. For better accuracy, minor adjustments were made to the barrel's rifling and crown.